Nestled in the heart of North Carolina, the vibrant city of Durham has long been celebrated for its rich history, diverse culture, and thriving culinary scene. As an epicenter of Southern charm and innovation, Durham has become a haven for food enthusiasts seeking unforgettable gastronomic experiences.
In this culinary journey, we embark on an exploration of Durham's top 10 restaurants, where culinary artistry and local charm seamlessly intertwine. From cozy eateries dishing up traditional Southern fare to trendy bistros serving up innovative fusion dishes, the city offers a delectable array of dining options to satiate every palate.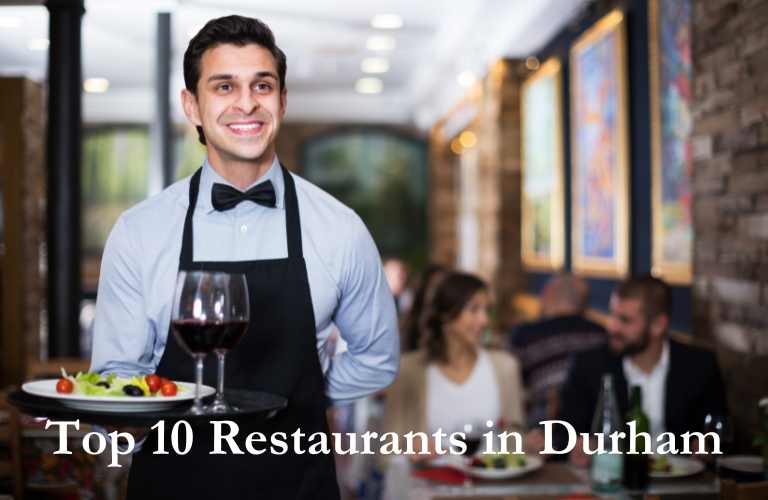 Prepare to be tantalized by an assortment of flavors and aromas as we venture into the kitchens of these culinary gems. Whether you're a local looking to discover new favorites or a visitor eager to indulge in the city's renowned food scene, this curated list of Durham's top 10 restaurants promises to leave you with delightful memories and a yearning to return for more.
Join us as we delve into the culinary wonders that await at each of these exceptional establishments, where passion, creativity, and locally sourced ingredients come together to create an unforgettable dining experience.
Without further ado, let's embark on a culinary voyage through the top 10 restaurants in Durham, where the art of gastronomy flourishes in the Bull City's vibrant food culture.
1. Mateo Bar de Tapas
Nestled in the heart of Durham, Mateo Bar de Tapas is a culinary gem that whisks you away to the vibrant streets of Spain. This delightful restaurant captures the essence of Spanish cuisine with its extensive selection of small plates, known as tapas. From the tantalizing Jamón Ibérico to the satisfying Patatas Bravas, every dish is crafted with an authentic touch. The cozy and inviting ambiance adds to the overall experience, making Mateo a go-to spot for both intimate dinners and lively gatherings.
2. Pizzeria Toro
Pizzeria Toro brings a taste of Italy to the Bull City with its mouthwatering Neapolitan-style pizzas. The wood-fired crusts, topped with fresh, locally-sourced ingredients, deliver a burst of traditional Italian flavors. Whether you're a fan of classic Margherita or adventurous combinations, this restaurant offers a pizza for every preference. The casual and friendly atmosphere makes it an excellent spot for a laid-back meal with friends and family.
3. Gocciolina
For an authentic Italian dining experience, look no further than Gocciolina. This charming eatery serves up handcrafted pasta dishes inspired by the various regions of Italy. Each plate boasts rich flavors and showcases the chefs' dedication to the art of pasta-making. From the luscious Fettuccine Bolognese to the delicate Agnolotti filled with seasonal ingredients, Gocciolina guarantees a memorable and heartwarming meal.
4. The Durham
As a pioneer of the farm-to-table movement in Durham, The Durham restaurant prides itself on its commitment to locally-sourced ingredients. The menu reflects the seasonality of produce, resulting in dishes that burst with freshness and flavor. The cozy and contemporary ambiance makes it an excellent spot to savor innovative and regionally-inspired American cuisine.
5. Saltbox Seafood Joint
Saltbox Seafood Joint is a must-visit for seafood lovers in Durham. This no-frills eatery specializes in serving up the best of North Carolina's coastal cuisine. From succulent shrimp to perfectly fried fish, each dish showcases the simplicity and deliciousness of Southern-style seafood. The casual and unpretentious setting allows the seafood to take center stage, creating a memorable experience for all who visit.
6. Dashi
Dashi brings an authentic taste of Japan to the heart of Durham. This trendy restaurant offers a diverse menu of traditional Japanese dishes, including flavorful ramen, sushi, and izakaya favorites. The attention to detail and use of high-quality ingredients ensure a culinary adventure that satisfies even the most discerning palates. The modern and stylish ambiance makes Dashi a favorite among locals and visitors alike.
7. Mothers & Sons Trattoria
Mothers & Sons Trattoria exudes warmth and nostalgia, reminiscent of a traditional Italian trattoria. The restaurant's handmade pasta steals the show, featuring dishes such as the velvety Cacio e Pepe and the indulgent Pappardelle with Bolognese sauce. With its rustic charm and soulful dishes, this trattoria is a beloved spot for those seeking classic Italian comfort food.
8. Littler
Littler is a contemporary American restaurant that celebrates the marriage of creativity and seasonality. Their ever-changing menu showcases inventive dishes that feature locally-sourced ingredients at their peak. From innovative vegetable creations to expertly prepared meats, Littler delivers a delightful dining experience in a chic and modern setting.
9. Nana's
Nana's is a culinary gem that embraces the farm-to-table philosophy, offering contemporary American cuisine with a focus on sustainability and locally-sourced ingredients. The restaurant's commitment to freshness is evident in every dish, from the vibrant salads to the hearty mains. Nana's warm and inviting atmosphere makes it a perfect spot for a relaxed yet refined dining experience.
10. The Pit Authentic Barbecue
For a taste of North Carolina's barbecue heritage, The Pit Authentic Barbecue is a go-to destination. Specializing in traditional, slow-cooked barbecue, this restaurant offers tender and smoky meats served with classic Southern sides. The laid-back atmosphere and hearty portions make it a beloved spot for indulging in the flavors of the South.
Remember, restaurant experiences may vary, and it's always a good idea to check recent reviews and availability before making reservations. Enjoy your culinary adventures in Durham!
Conclusion
In conclusion, Durham's culinary landscape offers a delightful fusion of traditional Southern charm, international flavors, and innovative dining experiences. From tapas bars that transport you to the streets of Spain to trattorias that evoke the warmth of Italy, each restaurant on this list is a testament to the city's diverse and vibrant food culture.
Whether you're a local seeking new dining adventures or a visitor eager to indulge in the Bull City's renowned food scene, these top 10 restaurants in Durham promise to leave you with a memorable and satisfying culinary journey.
From the artistry of Mateo Bar de Tapas to the simplicity of Saltbox Seafood Joint and the creative flair of Littler, each restaurant showcases the passion and dedication of its chefs in crafting exceptional dishes. The use of locally-sourced ingredients, along with a commitment to seasonality, adds a unique touch to every plate, highlighting the abundance of the region's culinary resources.
Durham's dining scene is a reflection of the city itself—dynamic, welcoming, and filled with character. Whether you're savoring a wood-fired pizza, sipping Spanish wine, or delighting in handcrafted pasta, each restaurant offers a distinct experience that leaves a lasting impression.
As the Bull City continues to evolve, so does its food culture, making it an exciting destination for food enthusiasts from near and far. So, if you find yourself in Durham, make sure to embark on a gastronomic adventure and discover the hidden treasures these top 10 restaurants have to offer.
Remember, this list is merely a snapshot of Durham's culinary scene, and there are many more delightful restaurants to explore. With its ever-changing dining landscape, Durham invites you to come back again and again to savor the flavors, aromas, and warm hospitality that make it a true haven for foodies.
Whether you're celebrating a special occasion or simply indulging in a night out, Durham's top 10 restaurants promise to be an exquisite journey that tantalizes your taste buds and leaves you with memories to savor long after the meal is over. So, bring your appetite and immerse yourself in the culinary wonders that the Bull City has to offer. Happy dining!